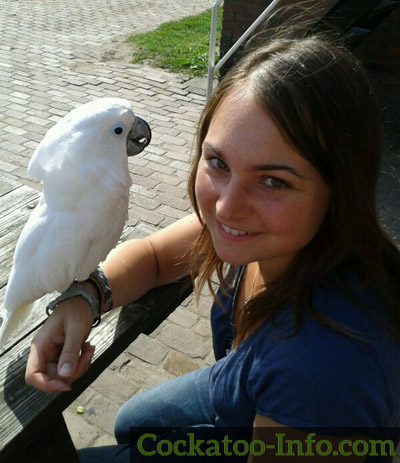 Hi, I'm Linda van Zomeren. I live in the Netherlands any I have studied Ecology and Evolution at the University of Groningen. My specialisation is Evolutionary Genetics. I have my own company in web design. I build websites for small companies and I publish my own websites about animals and genetics.
I have one Umbrella cockatoo, a male born in 1993. I have him since 1997. His name is Coco and you can find pictures of him all over this website.
I made this website to give people clear and trustworthy information about cockatoos. I do not sell cockatoos or anything that has to do with food, toys etc for birds so I am not interested in anything else than supplying you with trustworthy information.
I love to share information about cockatoos with you. However, maintaining this website is not free. That's why you see some Google AdWords ads on the pages. The revenue of these adds will pay me a small portion of the costs back.
If you are interested in advertising on this website, you can e-mail me at info@kaketoe-info.nl
Text continues below ad